Recently there have been a flood of reports of Bacterial leaf streak (BLS) from areas within Iowa.  Not surprisingly reports of  BLS have started to come in from portions of Northern Illinois, an area of the state that has been subject to several significant rain events over the past two weeks.  Severe weather pushed through these areas yesterday, and more is forecast over the coming days.
Bacterial leaf streak is a fairly new disease in the United States, and has been detected at low levels in parts of Northern Illinois for several years.  This bacterial disease is predominantly borne on corn residue, and is dispersed locally to surrounding plants by driving rains and potentially wind.  Disease is favored by corn on corn production, warm weather, and heavy rains/irrigation.  Injury to plants, for example hail or sandblasting, can promote infection by the pathogen.  Under the appropriate conditions, significant yield losses can occur.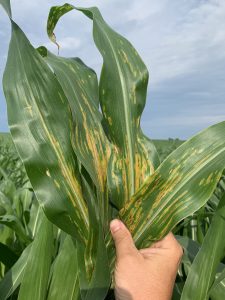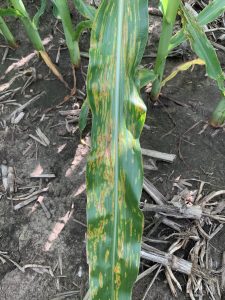 The disease is characterized by lesions that follow the veins.  Lesions can range in size, but contain a bright yellow, wavy boarder that can be easily observed when leaves are backlit.  Disease can be observed throughout the canopy.
Right now it is important to scout fields and ensure that this disease is not being misidentified as more commonly occurring fungal diseases, for example grey leaf spot, anthracnose, and northern corn leaf blight.  Some additional tips on distinguishing BLS from these diseases can be found here.  Remember that this is a bacterial disease, so fungicides will not have an effect.  If you suspect BLS in your fields send a sample to the UIUC clinic for confirmation.  Information on how to submit a sample can be found here.
In terms of management, residue management and rotation may help reduce local levels of inoculum, although some disease may still occur in these fields on remaining residue or potentially spread from nearby fields.  Avoiding excessive irrigation also may help reduce development and spread in the few fields that utilize irrigation in the state.